Another birthday party, not quite as out of control as the last. Here you can see the Cheese and Stout Souffle that was one of the starters, along with what remains of the fois gras. Also making an appearance, large quantities of red wine.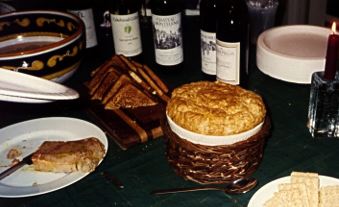 One of my first "fancy meals" was an eleven course. Here's the cheese course, which had a blueberry gin sauce and a filo wafer. The flower is a garlic chive blossom from my garden.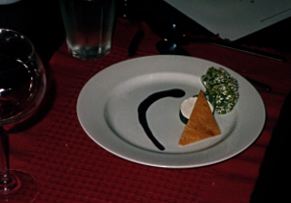 Latecomers to a summer party always feel the need to bring something. Here Ron provides the (not very needed at that point) gin. We drank it anyway. I think.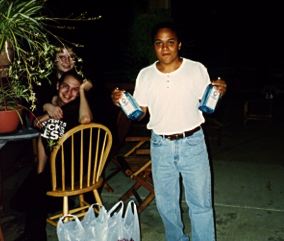 Here's my spice rack, shortly after I finished organizing it. This was one of my projects for my last sabbatical. Today, it's somewhat less organized, but with about twice as many jars.



The final stages of a reduction sauce. The original amount was almost two quarts, and at this point what remains is around half an inch on the bottom of this very small pot.

Quality control mandates that I check to make sure it tastes good.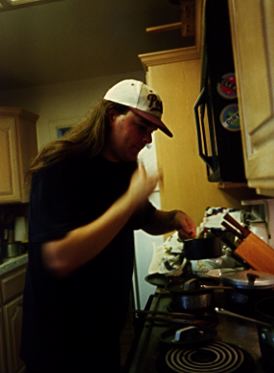 The kitchen where all of the madness takes place. You can see my old stove and microwave combination. This has since been replaced by the Viking and a large stainless steel vent hood.